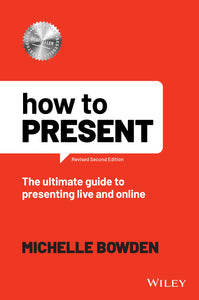 'There is no other book like this on the market. Whether you are climbing the corporate ladder, a leader of people or a self-made entrepreneur, presentation skills are an essential capability for your success. How to Present will take you step-by-step through the formulas, tips and techniques for successful presenting.'
Brenton Smith, President and GM, BMC Software Asia Pacific & Japan
----
Learn to speak confidently, clearly and with influence
Do you want to showcase your knowledge, influence people and accelerate your career? Do you want to engage and persuade your peers? Do you want your presentations to achieve results?
In How to Present, presentation skills expert Michelle Bowden shares her internationally proven system for exceptional presenting, from establishing your goals, to structuring your message, to captivating your audience. This second edition is fully updated with all new strategies for presenting in online and hybrid settings.
Learn how to:
maximise your impact in meetings, conferences and conversations
manage your nerves so you feel calm and confident
control your voice and body language
structure your message clearly and deliver with authority
make online presentations effective and engaging.
Whether you're speaking to one person or thousands, in person or online, this is the essential guide to becoming an outstanding presenter who is memorable for all the right reasons!
MICHELLE BOWDEN CSP is an authority on persuasive presenting. The bestselling author of How to Present and How to Persuade, she's a multi-million-dollar pitch coach to well-known names in international business, from banking and finance to IT, pharmaceutical, retail, telecommunications, and more. Michelle is the creator of the Persuasion Smart Profile®, a world-first psychological assessment tool that reports on your persuasive strengths and weaknesses.